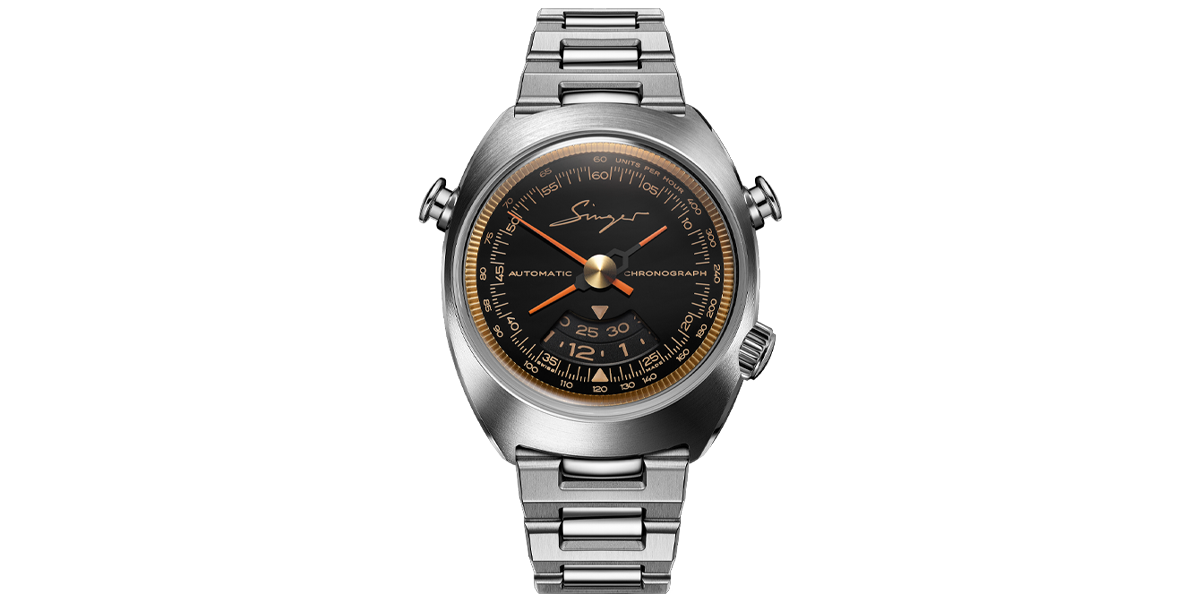 Singer Reimagined timepieces are by definition a love letter to the vintage design of iconic 60's and 70's watches. 1969 is a collection to pay tribute to the style of that era even further. 
1969 Chronograph is the quintessential expression of Singer Reimagined high-watchmaking approach, featuring the most recent version of the famous Agengraphe caliber. A new time display, enhanced readability and the award-winning 60 hours chronograph function taking central stage on the dial. All of this condensed to only 40mm.
The central dial displays the chronographic information in pure Singer style. Seconds, jumping minutes and jumping hours hands are centrally mounted and all point to the same base-60 scale. 
A new 40mm stainless-steel watch case, revised displays and a brand-new metal band are the quintessential elements for an icon to be, able to fit every kind of wrist.
Executed in a very deep and precious piano-black lacquer finish, the dial is enriched with an applied signature golden crown ring, adding an iconic and unexpected detail. These elements are magnified by a domed glass-box sapphire crystal, visually extruding the dial out of its metal frame.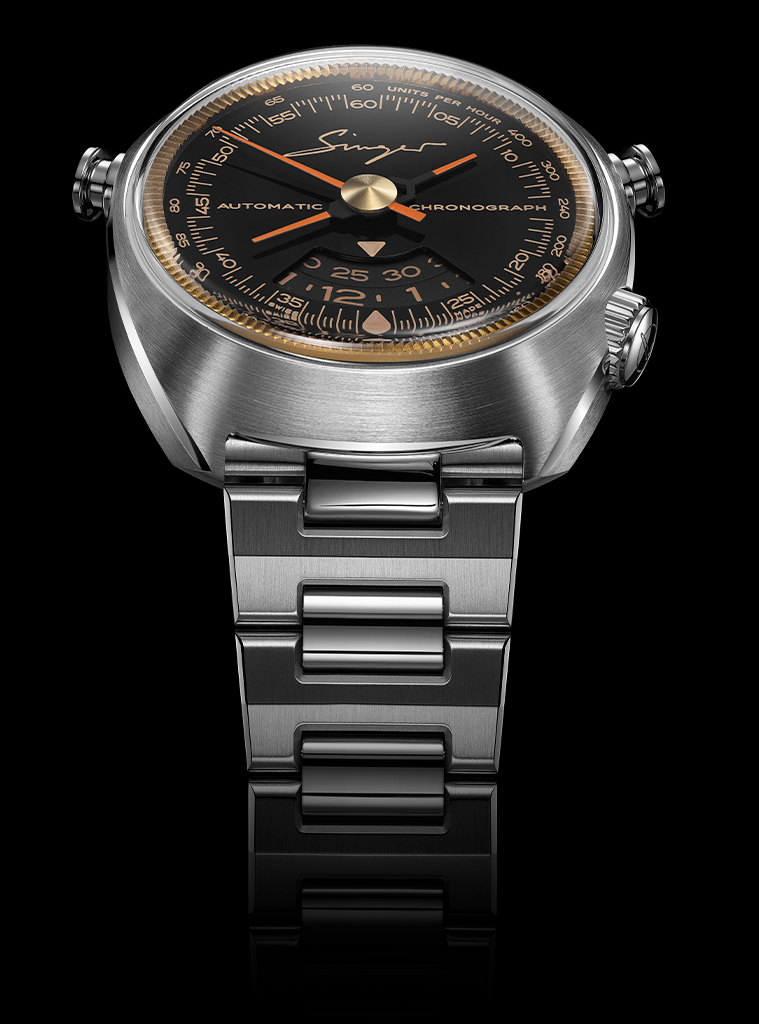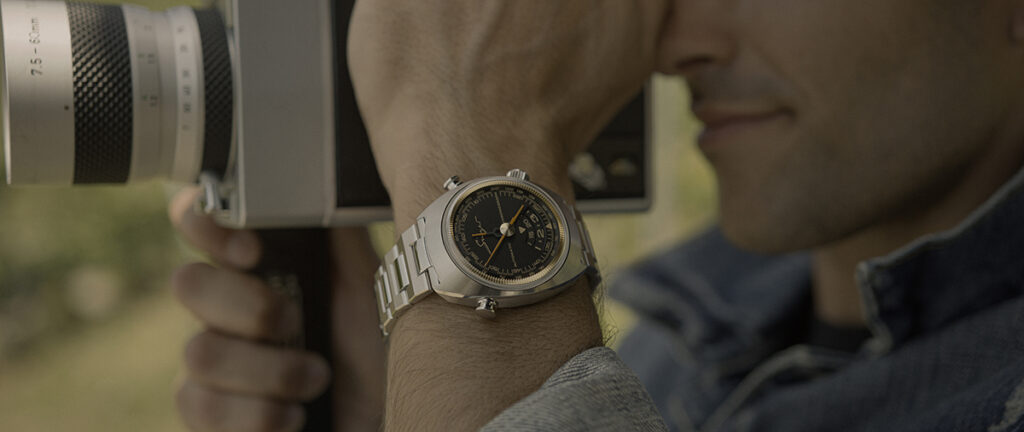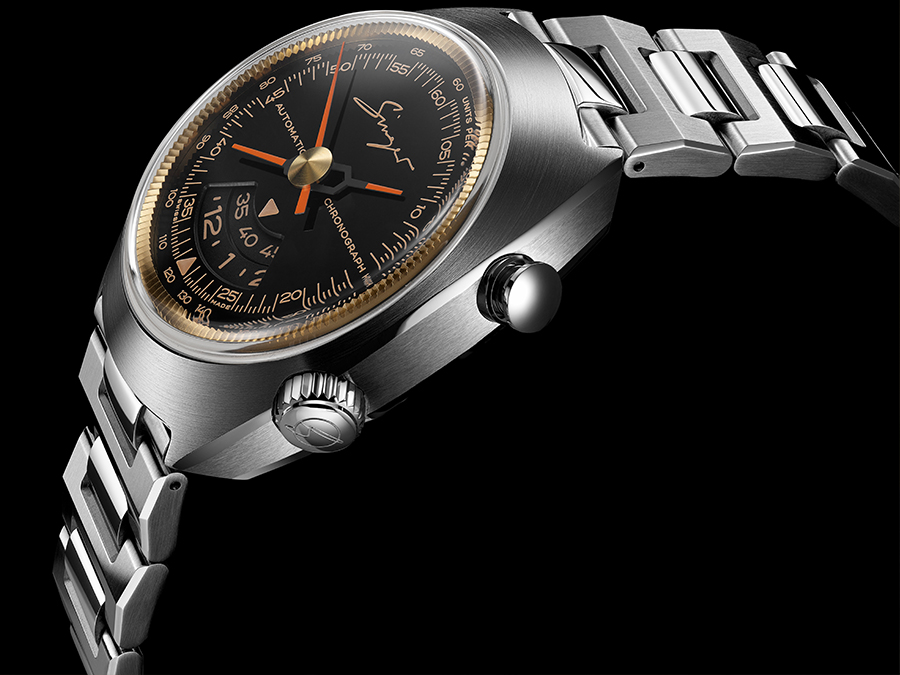 FUNCTIONS
The central dial displays the chronographic information in pure Singer style. Seconds, jumping minutes and jumping hours hands are centrally mounted and all point to the same base-60 scale. Singer chronographs are the only ones allowing event tracking of up to 60 hours.
Time-of-the-day indication is displayed on the bottom side of the dial, via two disks rotating underneath the dial surface. Disks graphics and time indication arrows are executed in SuperLuminova®
The 72h power reserve is complemented by an hidden automatic winding system, positioned underneath the dial, which leaves an unobstructed view of our beautifully finished intricate caliber 6365 counting 491 different components and 56 jewels.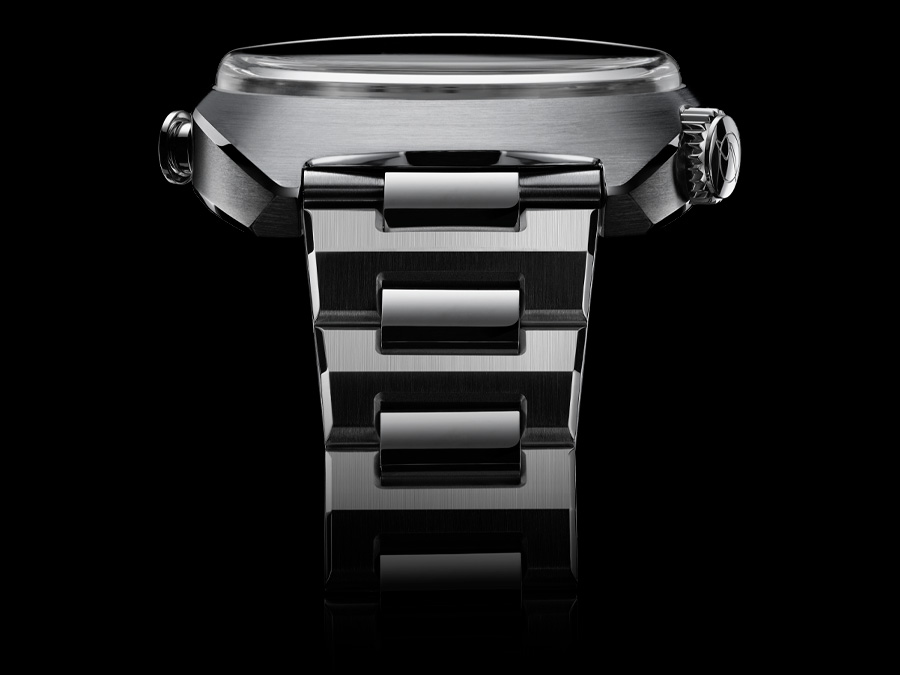 CASE
The case size of the  Singer 1969 chronograph is 40mm. A sober and stylishly design to fit every wrist. A development in design based on well-researched ergonomic and functional considerations.
Stainless steel is the material we chose for the case. Solid, preciously finished and an ever classic. Brushed surfaces and polished edges, a Singer signature, are meticulously executed to provide a jewel-like appeal.
The two-pieces case features a domed glass-box sapphire crystal, providing an instant retro-look reminiscent of classic timepieces. The vigorous curves of its shape are underlined by mirror polished edges providing dynamism and velocity.
METAL BRACELET
The stainless-steel bracelet is composed of two contrasting elements. The edgy brushed "H" links are designed after racetracks' curbs shape, providing a contrasted and vibrant effect. In contraposition, the rounded polished center links bring smooth reflections and sparkles of light. This combination ensures exceptional wearability and comfort. The brushed sloping facets are complemented by polished chamfers, visually extending the case profile with polished edges – a brand signature feature.
Tapering from 22 to 18mm, the new bracelet, incorporating an adjustable fitting system housed in the folding clasp, is perfected for the widest array of wrists.
MECHANISM
The movement AGH 6365 is a reengineered version of the award-winning Agengraph featuring updated displays to enhance functionalities and to fit their new 40mm housing. The movement is engineered and produced to unique Singer specifications by Agenhor.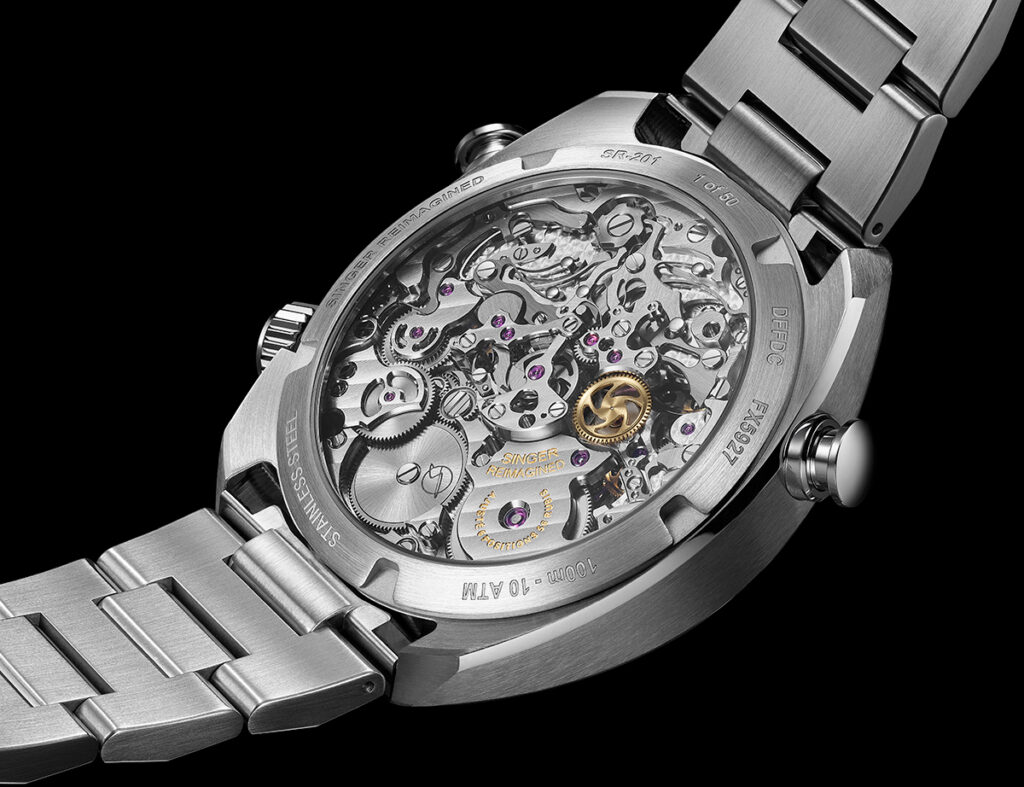 1969 CHRONOGRAPH SPECIFICATIONS
Caliber Singer Reimagined 6365. Automatic mechanical movement column-wheel chronograph. AgenGraphe Singer Reimagined exclusive 3-60 indication centralized instantaneous chronograph hours (60 hours) and minutes (60 minutes). Sweep chronograph second hand (60 seconds)
Number of components:491
Number of jewels: 56
Power reserve: 72 hours
Frequency: 21'600 vph (3 Hz)
Functions: Hours, minutes on central discs rotating underneath the dial, central chronograph with instantaneous hours, instantaneous minutes and seconds.
Material: 316L stainless steel
Dimensions: 40 x 14,5 mm
Dial: Deep piano-black lacquer finish with golden crown ring
Sapphire Crystal: Domed glass-box Crystal Sapphire with double-sided antireflective coating
Back: Screwed with sapphire crystal
Singer signature 316L stainless steel metal band
Type: 316L stainless steel folding buckle with toothed bar for quick size adjustment
51'000 CHF
(excluding VAT and local taxes)
Limited production of 50 pieces in 2023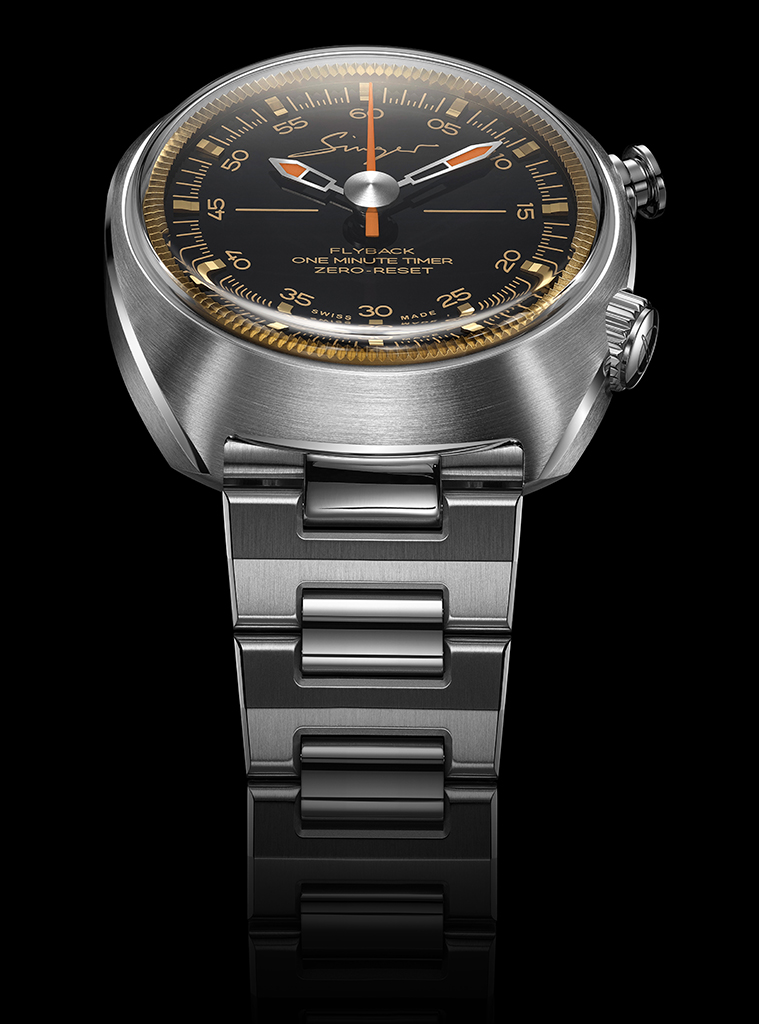 Hour-pointer on peripheral disc, central minutes and central seconds with zero-reset function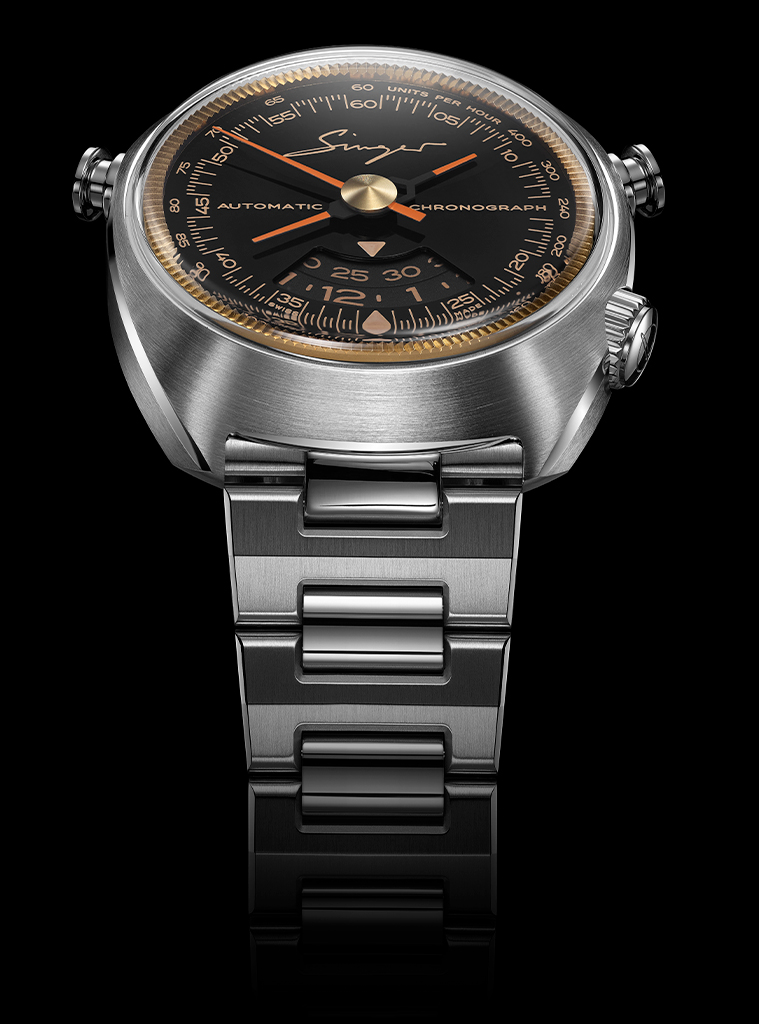 Hours, minutes on central discs rotating underneath the dial, central chronograph with instantaneous hours, instantaneous minutes and seconds