Could a design define a brand identity?
The answer is certainly YES!
A product, a shape or even a color could make a real statement for a brand and makes it recognizable among others.
At Singer Reimagined, the design has always been a real asset to make a timepiece really enjoyable and desirable. Beside an incredible movement, which is the core of each high-watchmaking timepiece, the shape of its case or the color of its dial has to be appealing to provoke desire.
Of course, technicity and mechanics are key for a timepiece however one should also please the eye.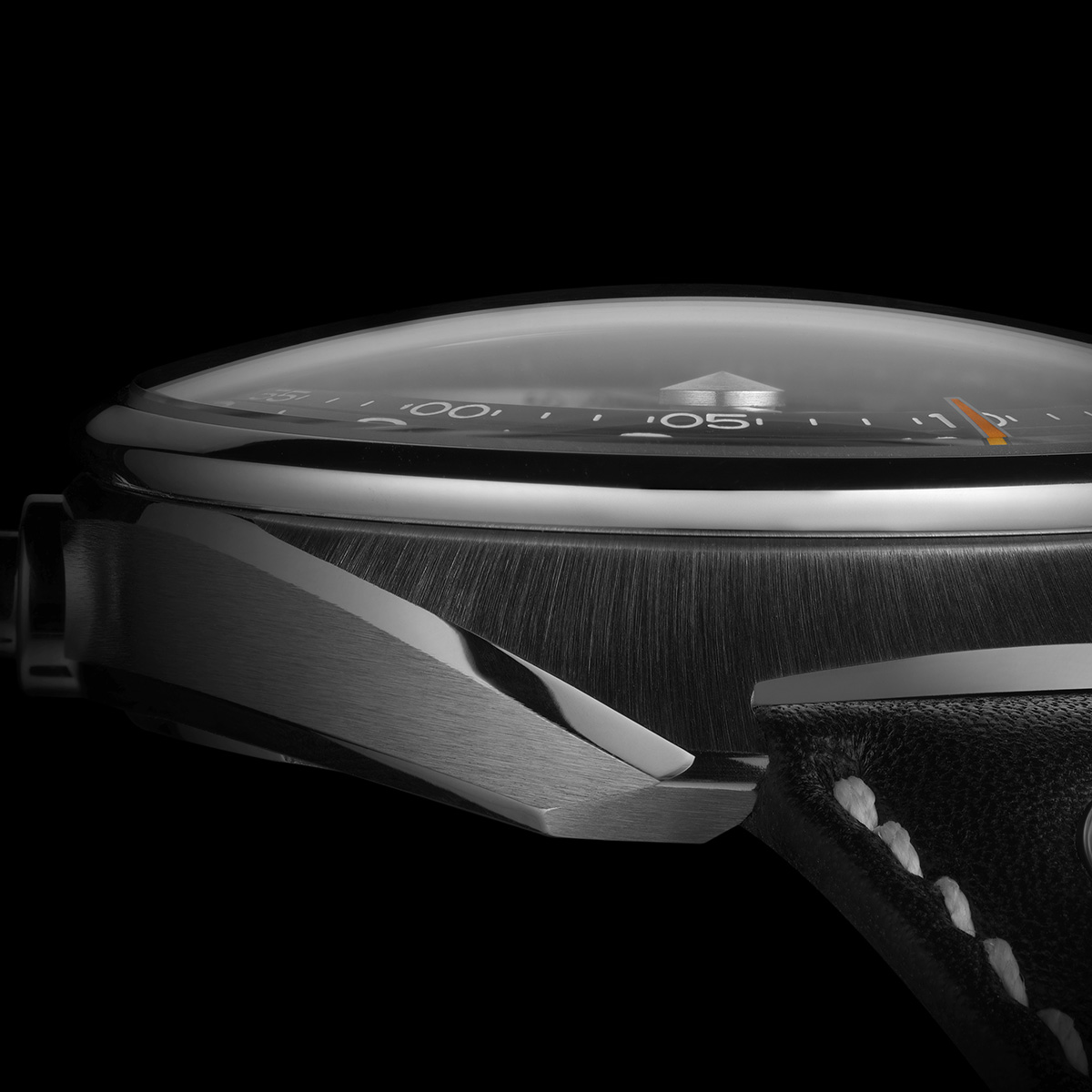 Singer Track1
At Singer Reimagined, Marco Borraccino CEO and Designer of the brand, has achieved a very remarkable results by creating complex timepieces clearly inspired by iconic chronographs mainly from the 70's golden era. He, however, added a very unique and personal touch because at Singer authenticity matters.
In this new article, we will describe our Track1 composition. We will also explain the link between past and modern designs that made our pieces recognizable and unique.
The inspiration behind the Singer Track1 design:
We are all a little bit obsessed over 60's and 70's aesthetics, many have left their mark in history in several areas like fashion, automotive, interior design and of course watchmaking.  During this golden era of design, chronographs have been widely developed and reinterpreted. In addition to that, the first automatic chronographs appeared late in the 60's when few independent watch companies presented almost simultaneously their own automatic caliber. Their complex dials and dual push buttons were linked to cocksure professionals who wore them. Chronographs, indeed,  have become synonymous of performance, competition and of course car racing thanks to iconic drivers like Jo Siffert or Paul Newman.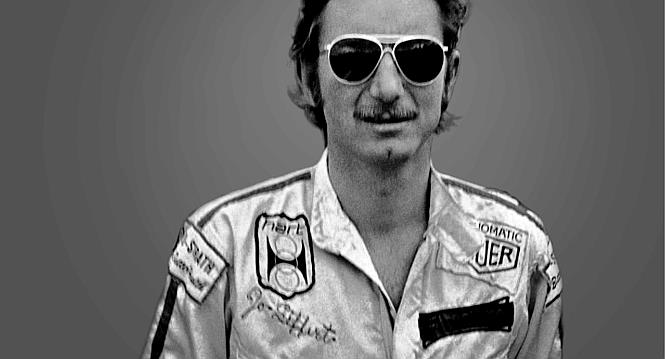 Jo Siffert
The Story behind the Designer
This specific period has marked Marco's spirit from his young age.
His love for watches arose thanks to his parents. Following a bike accident at 5 years old, Marco found himself in a hospital. To cheer him up, his parents presented him a mechanic watch, mounted on what we call today a "Nato strap" with black&blue Inter of Milan colors, Marco's favorite football club. Since then, He couldn't help but admiring his watch.
During his young age and supported by his father, Marco attended the most notorious cars events and collector's reunions in Italy, he developed a deep sensitivity and appreciation for automotive. Moreover, being at few kilometers away from the legendary Monza circuit, Marco spent entire days attending  car races.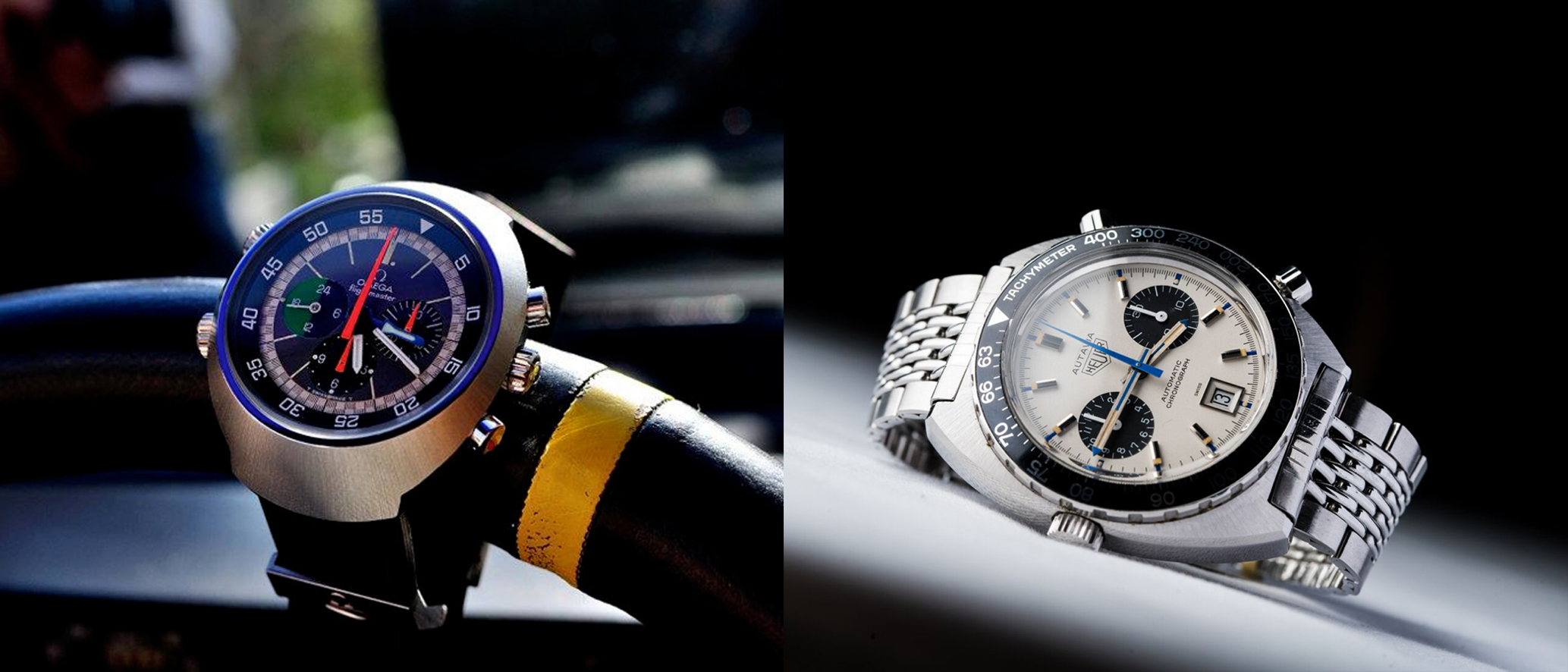 OMEGA FlightMaster and Heuer Autavia
These events have considerably impacted Marco's spirit. He started collecting many items like phones, furniture and other iconic products belonging to this period. When he grew up he started collecting vintage watches. So naturally, when he had to imagine the watch of his dreams the Singer Track1 Launch Edition, Marco could not ignore his passion for 70's timepieces like the OMEGA FlightMaster and the Heuer Autavia Chrono Automatic Caliber 11. A particular admiration was also dedicated to the amazing opus of Mr. Jack Heuer for his creativity and strategical skills.
Singer Track1 Case Design: After inspiration comes creation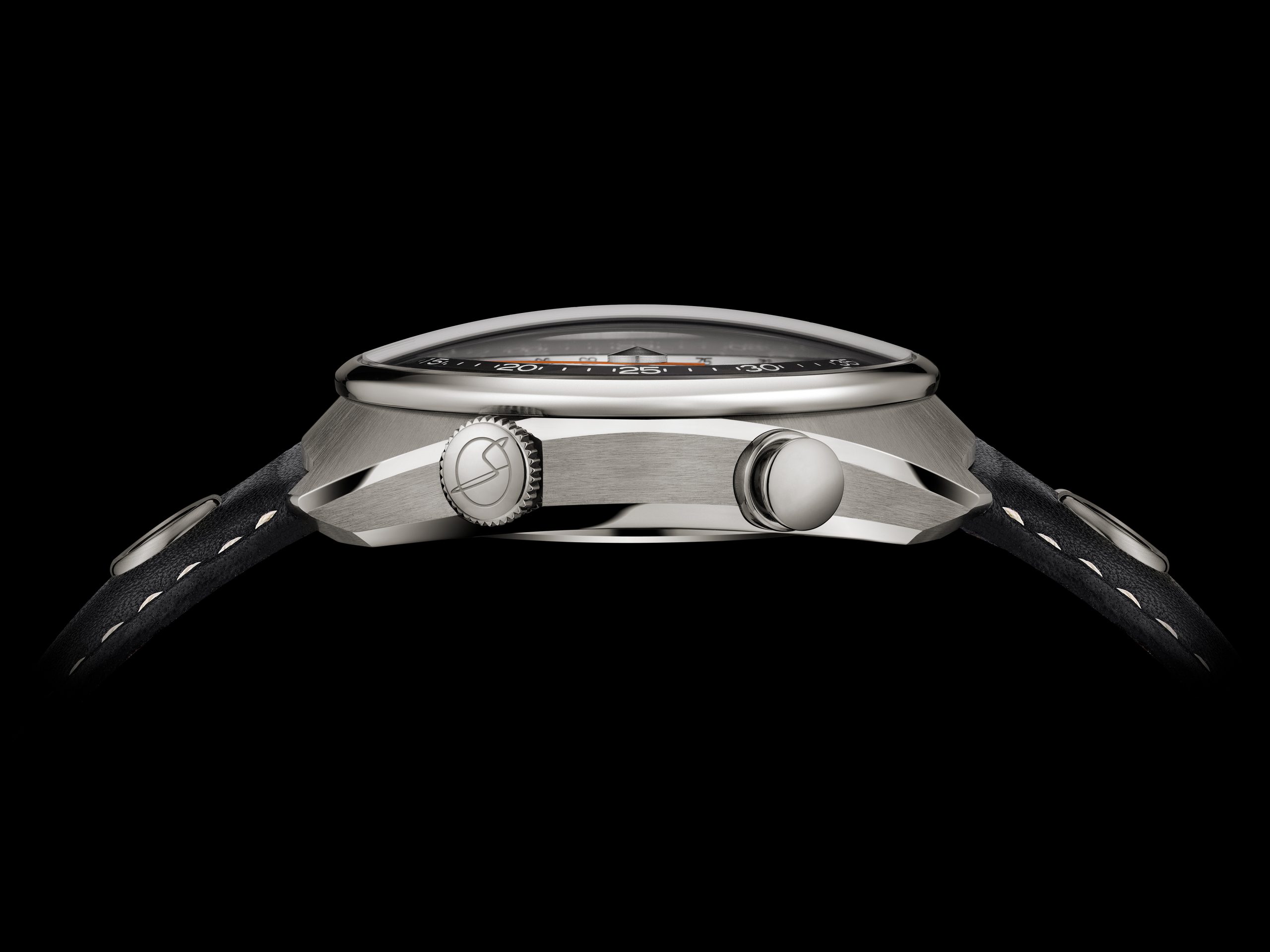 Starting from a vintage inspired barrel shaped case, Marco designed the watch profile to evoke speed and dynamism enhancing ergonomic to ensure perfect fitting regardless to wrist size.
The use of double polished edges – framing the side view of the watch – gives lightness to the overall design and creates an alternation of different finishing for a precious and refined result.
Our Designer approach emphasizes the importance of a simple Design principle: "Form follows function" . Indeed, a Track1  provides its owner with a very unique experience while using it.
Push buttons position on the sides of the case allows not only an easy use of the watch while wearing it but also – here again influenced by car racing – handling the Track1  like a real stopwatch.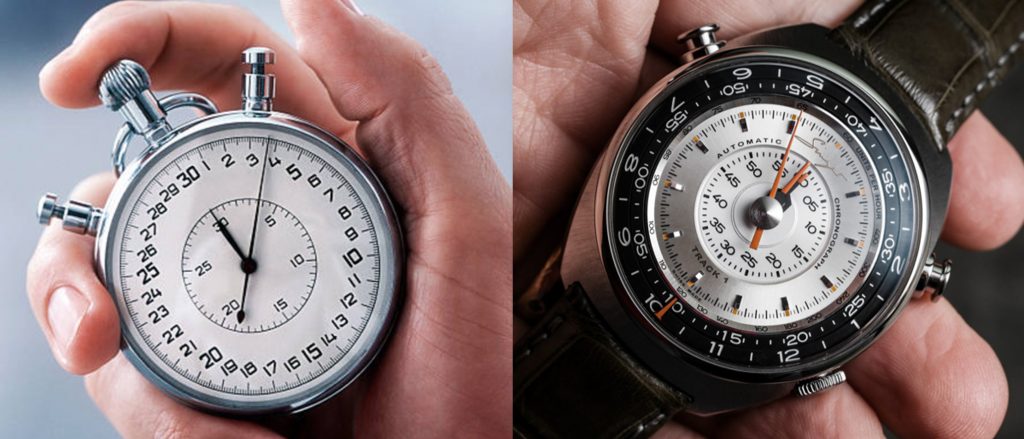 Racing stopwatch and Singer Track1 Launch Edition
 Singer's Display Design:
Most of the chronographs offer a traditional layout: a central dial with small sub-counters surrounded by a tachymetric bezel.
This traditional and almost never reconsidered design, even though iconic, has never provided a good readability. In fact, time of the day and elapsed time are displayed on the same area, making the information difficult to read at a glance.
While designing the Track1 the main goal was to improve the chronograph performances. Therefore, he found a brilliant way to separate the chronograph from the time of the day  to considerably improve readability and ergonomics.
Marco imagined to design these two specific areas – dial and turning bezel – in a different way. The central dial has become the chronograph counter, giving central stage to the chronograph function.  On the other hand, day-time  has been moved on the periphery, thanks to two rotating disks spinning around the main dial, replacing the classical sport watches' bezel.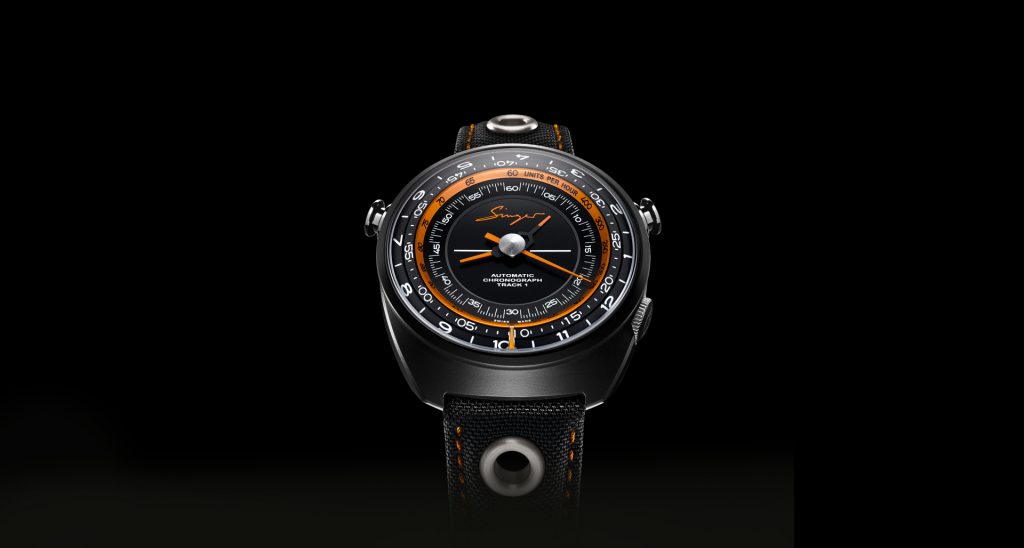 This new layout intents to focus attention on the main purpose of Track1 watches: Elapsed time measurement. In other words, Track1 is essentially a Chronograph that tells also the time of the day.
This innovative layout, provided us with a very interesting characteristic. We've been able to conceive a watch that keeps the archetypal features of traditional and sport timepieces with a new and fascinating twist. Track1 is very the First and Only watch with a display that splits the information for a very distinctive time-keeping experience.
One must not forget inspiration behind our watch hands, directly influenced by rev counter needles on vintage Porsches.
Singer Track1 Strap Design:
Because every detail counts, the strap of a watch is an indispensable addition to the overall look.
Singer Reimagined chooses high quality material and a specific palette of attractive colors. Our design pay tribute to 60's and 70's spirit and car racing. Indeed, the Track1 straps are influenced by classic "rally straps" featuring holes to remind perforations present in certain parts of racing cars. Therefore, we have imagined a single hole rally strap and we added screw-down titanium rivets. This details can be found on rally car seats and also on Singer Vehicle Design restorations.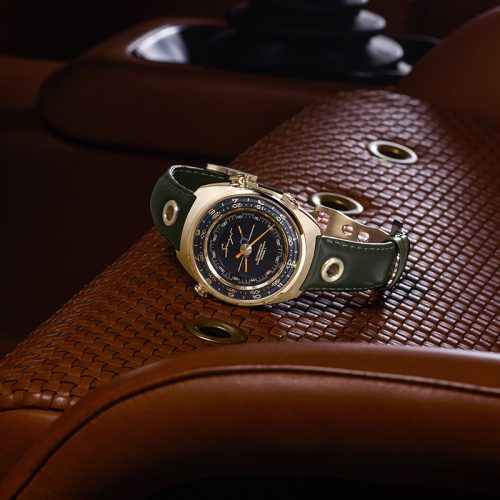 Singer Track1 Geneva Edition
To conclude, let's simply evoke a romantic encounter. Discovering the Track1 Collection is like meeting someone with the risen feeling that you have always known him or her. At first glance, it may look familiar, then, you realize how special and unique it is … like meeting your "THE ONE".
Article by Silvana Molaro.