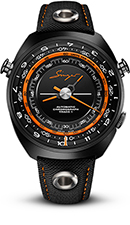 Singer Track 1 – Hong Kong Edition SR003
51'500 CHF
(VAT and local taxes excluded)

Fill out the booking form

Verification of availability





Our timepieces can be purchased either ordered directly through us or at one of our official retailers . Worldwide shipping and insurance are included in the price.

Thank you to specify the desired watch serial number(s) in your order form. We'll get back to you for confirmation
Once we receive a filled copy of the Commission Request Form we check the availability and send you a copy of the form for signature. A timepiece will be provisionally allocated to you. We will then personally get in touch with you and provide you with wire transfer instructions for a 50% deposit. Your provisional allocation will become a confirmed allocation once we receive your 50% deposit. Your deposit need to be received within five working days in order to secure your allocation.