Flytrack Cocktail Edition SR109
Singer in partnership with GMT Publishings and the Fine Watch Club creates something completely new and creative that has not been done in the chronograph's world before: the Flytrack Cocktail Timer.
The Cocktail scale allowing you to prepare your favorite stirred cocktail by measuring the melting of ice in your drink recipe and diluting flavours.
Prepare your favorite cocktails the way you like it. 
The effects of melting ice vary depending on how long it takes to melt, how much ice is used and the cocktail recipe in question. The art of mixology consists in blending all these factors to create a sensory experience – and cocktails that can be fruity, floral, balanced or strong.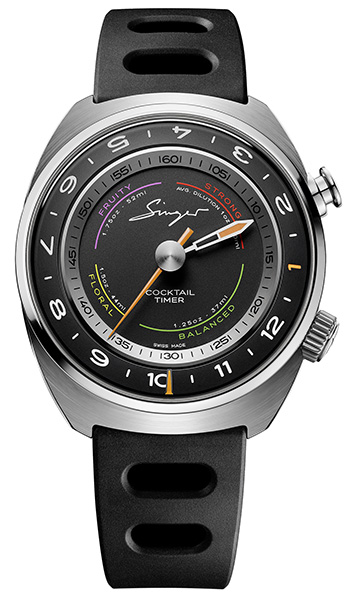 As the ice melts, it adds water to the cocktail, diluting the flavours and the strength of the drink. That can be an asset for certain cocktails, for instance by dialling down the impact of spirits or by improving the mixture of flavours from various ingredients.
Balancing flavours: melting ice can help balance out the flavours in a cocktail; sweet and bitter ingredients can be softened by dilution, while subtler ingredients can be heightened. All this is invaluable when it comes to creating a balanced and more harmonious taste profile in a fruit cocktail.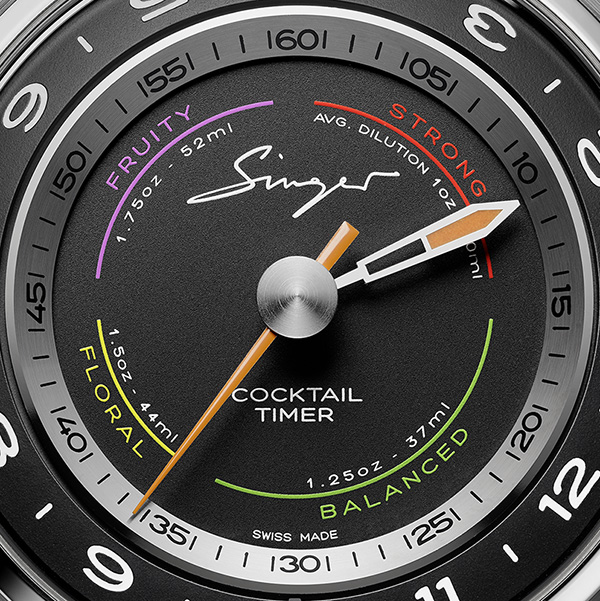 Releasing aromas: some drinks such as floral cocktails can be improved by ingredient aromas being released as the ice melts. As the temperature of the drink is lowered by the melting ice, essential oils and ingredient flavours are released, intensifying aromas and adding a fragrant dimension to the cocktail.
Singer Flytrack Cocktail Edition has been conceived to provide the most instantaneous and instinctive way of measuring short elapsed times.
We teamed up again with the Agenhor team in Geneva, to conceive this complication that allows to measure endlessly, sequential events.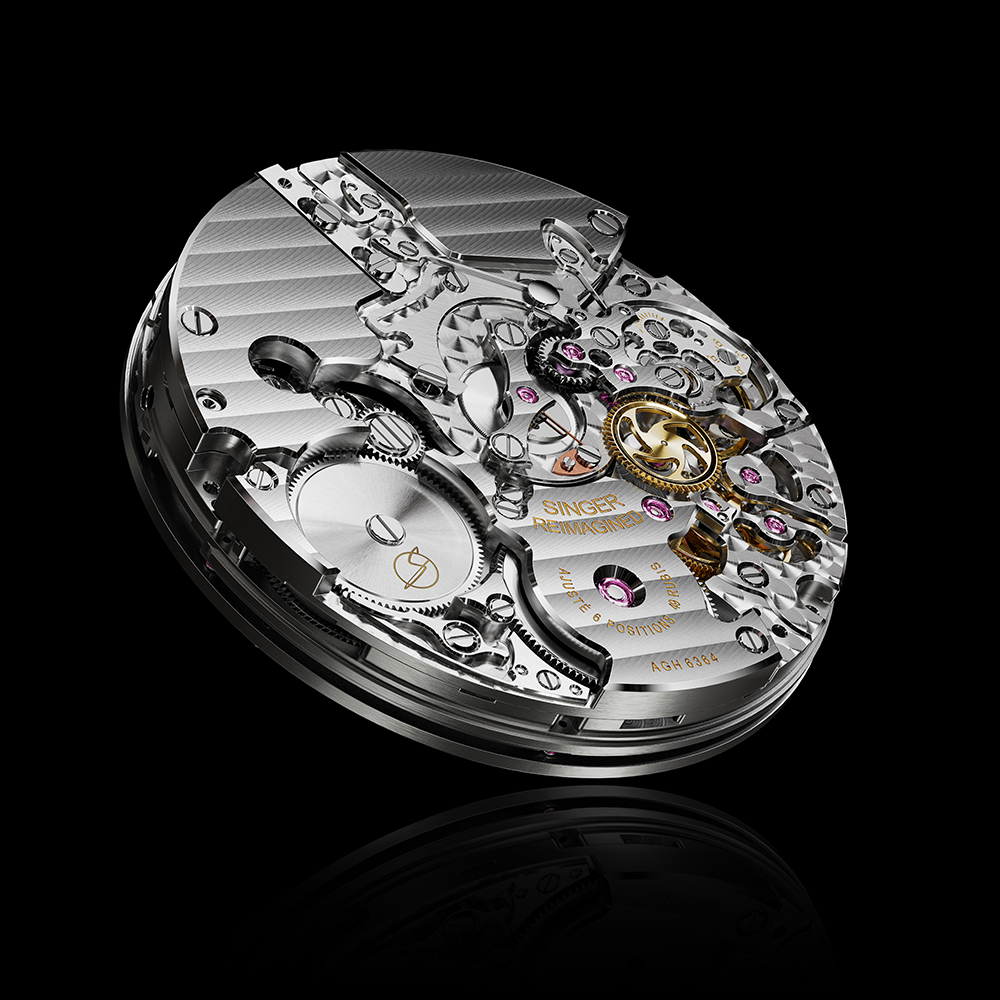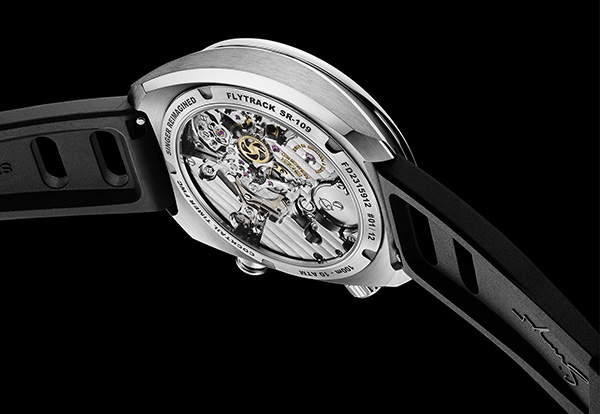 Singer Flytrack is a "time only" watch, featuring our signature peripheral hours disc indication combined with central minutes and central swiping seconds.
A single touch of the pusher instantly reset to zero the central sweeping second-hand. Releasing the pusher sets the second handin motion, allowing instant measurement of short intervals of time (60 seconds)
CALIBER SINGER REIMAGINED AGH6364
Manual mechanical movement, Singer Reimagined exclusive convertible flyback sweep second hand (60 seconds)
NUMBER OF PARTS
270
NUMBER OF JEWELS
39
POWER RESERVE
72 hours
FREQUENCY
21'600 vph (3 Hz)
FUNCTIONS
Hours on peripheral discs, central minutes and central seconds with flyback zero reset function
MATERIAL
Stainless steel
DIAMETER
43 mm
HEIGHT
15 mm
DIAL
exclusive Fine Watch Club matte black velvet finish; scale showing ice melting times for cocktail preparation (4 strengths); brushed and silvered circular flange
CRYSTAL
Sapphire with double-sided antireflective coating
BACK
Screwed with sapphire crystal
WATER RESISTANCE
10 ATM / 100 meters
MATERIAL
Singer black caoutchouc
TYPE
Folding buckle
MATERIAL
Brushed steel with polished edges