Every brand has its story, and every product has its inspiration.
Our Track1 – DLS Edition has its roots in the Dynamics and Lightweighting Study (DLS) undertaken by Singer on behalf of its clients. The study represents a pursuit of the most advanced air-cooled Porsche 911 in the world, and the first client cars were recently presented and driven at Goodwood Festival of Speed in the UK and Monterey Car Week in California. This particular example is named the Unico commission by its owner.
DLS focuses on extreme light-weighting, enhanced power and highly evolved dynamic responses. It represents the ongoing the Singer philosophy –
                                    "A Relentless Pursuit of Excellence"
To achieve the required results Singer collaborated with a formation of technical partners, including Williams Advanced Engineering, Multimatic, Bosch, Michelin, Brembo, BBS Motorsports and Momo to create very special engineering content. All 75 DLS restorations are allocated, with prices averaging USD $2.1M.
"A very proud moment, the ultimate testament to the talents of Singer's amazing teams on both sides of the Atlantic and representative of both where Singer started and just how far it's come"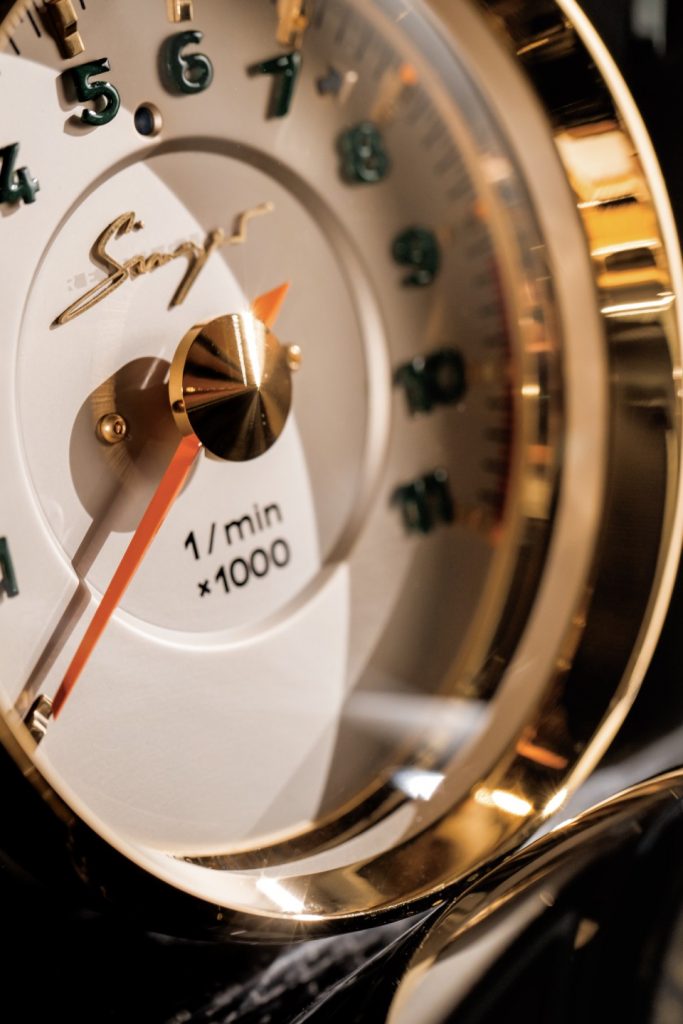 As part of the Singer Group, Singer Reimagined also decided to contribute to this incredible project by developing a timepiece dedicated exclusively to DLS owners.
The Singer Track1 – DLS Edition has been conceived to embody the lightweight and performance-driven philosophy behind the Dynamics and Lightweighting Study.
This new timepiece retains the revolutionary, award-winning AgenGraphe movement, a signature feature of the Track1 Collection. The DLS Edition shares the remarkable DNA that characterizes the collection as a whole but also sets new standards of its own.
Only owners of DLS restorations will be able to purchase and to personalize the Track1 – DLS Edition chronograph. These happy few will have the exclusive right to select the colors, materials and finishing of their own dedicated chronograph.
To embody the Dynamic and Lightweighting Study's characteristics, Marco Borraccino CEO and Designer of Singer Reimagined has created a new 1970 inspired forged carbon watch case. Forged carbon is not only known for its good balance between strength and light weight but also for its durability.
In fact, this evolution of the Track1 models matches perfectly the concept of the lightweighting that is central to the cars.
To match the DLS restoration, known as the Oxford commission, our Track1 DLS Edition is presented with a grey dial, natural titanium elements and a green textile strap.
The 43mm diameter case has been lightened with cut-outs inspired by the cars' side ram-air intakes. In addition features including the bezel, crown pushers and caseback are manufactured from grade 5 titanium which may be tailoreds with various DLC coatings to match the trim and details of each DLS restoration.
The centre of the timepiece is dedicated, as with every Track 1 timepiece, to elapsed time measurement, thanks to the three central orange hands with sweeping seconds and instantaneous jumping hour and minute hands. The time itself is displayed at the edge of the watch by two rotating ceramic discs showing hours and minutes.
"I need to have a reason why I'm doing something. Otherwise I'm lost."
We create products for passionate customers. And those same products are built by passionate people.
Every single step in that process of creation is guided by the Singer philosophy – A Relentless Pursuit of Excellence. We reimagine iconic design, combining heritage with cutting edge engineering and material science.
For that same reason, we understand the dedication that drives our own customers.
Car enthusiasts and watch aficionados have a lot in common – notably in their admiration for craftmanship and appreciation for aesthetics. Any car lover will appreciate the mechanical art of the chronograph.
For that reason, we have created a very specific chronograph for owners of DLS restoration. A watch that aligns with the characteristics of their car and enables them to carry "a piece" of their DLS on their wrist.
Article by : Silvana Molaro